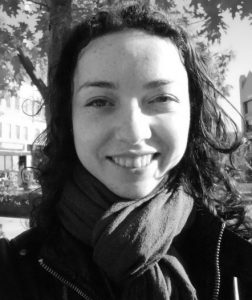 by Maya Sokolovski
Today is the last time for a long time that I will know a simple truth: All is well, and life is fine. The Rocky Mountains feel like home, like family. A chain of celestial islands bound together. Not a one alone or entire of itself. I climb up with my boyfriend and two friends. Every breath is ragged in the rarefied air. Each moment like a drop of honey in an acorn cup. At the height of spring, the sheer slopes sag with snow while sunlight strikes in blinding flares.
On a trail thickened by snow, every step the three young men, my companions, take is a sinking boot going one foot under. Deep into the packed white powder. I, on the other hand—light as a feather, stiff as a board—glide atop the glittering surface. The climb is brisk but slow, and we don't let up our pace. We are young and healthy of body, so there are no stops for breaks along the way.
It is early afternoon when we reach the peak, drop our backpacks, sit on clumpy earth, and warm our backs against the rocks. The sky curves above us like a dome. Rocky summits tower around us, mountains like hills. Chickadees and bluebirds twitter and twitch in the woods, while winds whistle in evergreen treetops. A family of squirrels chitter nearby.
After the necessary exclamations—"Oh wow!" "What a view!" "Look over there!" "It's so beautiful!"—we fall silent in contemplation. Mikhail and Denis unpack sandwiches and bottles of beer, while Viktor puts his arm around my shoulders and kisses my temple. I drink my beer, gazing serenely into the horizon.
We finish our meal and pace along the edge, regarding the plunging precipice with a mix of wonder and dread. It's a drop of more than one kilometre to the foot of the mountain. Beyond the misty haze, green valleys and crystal lakes bend in breathless arcs. I take some photos. Viktor and Denis sit at the edge, feet dangling into a whirling abyss.
Tipsy as we are, the climb back down is dizzying but concludes without incident. It is twilight when we pile into Denis' car and drive out of Jasper. In the back seat, I turn and look through the rear window. The Rockies are stony icebergs, awash in strokes of sunset red and orange and violet and blue. Though I feel the day's hike in every joint and muscle of my body, a shimmering energy thrums in my veins. We all agree that we will return to the Rockies again soon.
When Viktor and I come home to our apartment in Edmonton, I set about fixing a meal of chicken and potatoes. As I mash the potatoes in with milk and cream, my phone rings. It's my mother, calling from Toronto. Without saying hello or asking how I am, without preliminaries of any sort, she spits out the words that split the chain. "Your father left me."
The potato masher drops from my hand and into the pot with a wet thunk. "Oh, mom . . ." I manage to say. "Tell me what happened."
In a flat voice empty of affect, she tells me of his indiscretion. Of the other woman. Of the dry-eyed confession. Of the graphic sex act that I really didn't want to hear about. Every gruesome detail and point of fact. The before, the during, and the aftermath, laid out before me like a mess of papers from a torn book. But in this present moment—this, I realize, is the aftermath, stretching into the days and nights. The coming years to be measured out in coffee spoons and guarded words. Viktor is in the bathroom, out of earshot. As I hang up the phone this knowledge sticks in my throat like a ball of tar: My family is broken.
A few months later, life finds me once more in Toronto—the city I escape from, again and again, following my nomad heart, my morning star, to lands flung far beyond. Only to return, a prodigal daughter with her head slightly bowed.
Viktor and I move in with my mom, renting the basement level of a house that will never again be a home to any of us. One night I find her in the living room, sitting on the edge of the couch with family albums and photos strewn beside her like patches of hoarfrost. In her hands are a pair of cuticle scissors and a colour photograph. She cuts out my father's face, tosses it into a plastic trash bag, and reaches for another photo. A black-and-white, taken before I was born.
"Mom! What are you doing?"
She doesn't look up at me. Doesn't say anything. Her gaze is fixed, her jaw set. With a few snips, another head is cut out and slung into the bag. She reaches for the next photo, and I tremble with rage. I grab what I can—an album, a handful of intact photos, a few shreds of memory—before she snaps. "Go away! Leave me alone already!"
I thump down the stairs, trembling in my pyjamas. I hide the photos under the bed and collapse, crying, into Viktor's arms. He is dozing but wakes up with a murmur. "What's wrong, baby doll?"
I tell him. The whole thing. The divorce, the ruined photographs, the fractured memories. A family history wiped away like chalk marks off a slate. Between sobs I mumble, "How will I explain this to my future children?"
"Woah there, honey," he says, not unkindly. "One thing at time."
I cry and cry, and he holds me warm and safe until I fall asleep.
As the days and weeks drag on, my mother rages and weeps, grieves and sulks, seethes and boils over like a geyser. A natural disaster, uncontained. How long has she been like this? It seems a terrifying though pathetic life to ache like this, alone, for months and months. I avoid her when I can and mourn the death of my family in my own quiet ways.
My journal fills with fragments of thoughts, wisps of emotion, stories of my family before it fell apart. Viktor listens to me and strokes my hair as I talk through this. I get the words out because I cannot live with them inside me. In my dreams, I fly over the Rockies, free in the space between lake and sky. Smiling sun, sweeping snow, brisk and chilly mountain air—they are my refuge. Viktor calls me "mountain girl" and asks one day, "Weren't you born in the mountains?" And then I remember.
I was born in Tajikistan, a country that rises in massive crests of mountain rock. We left when I was a little girl, but the pull of the soaring mountainside must have stayed with me all these years. It was an emigration borne of despair, an escape from civil war, from a collapsing republic. Nothing is left of those times other than bone-deep imprints of distress—long forgotten, long asleep. Perhaps this explains the rift, irreversible, between my parents.
In my hands I hold two photographs. One, from the early 1980s, shows my parents on their wedding day: My dad feeding my mom cake from his hand, in black and white and faded grey tones. The other is a richly verdant snapshot of the Rockies from the peak, our spot, where earth and sky meet and touch eternal.
The mountains of Tajikistan, cradling my birth home, will always stand aloft. The Rockies will always reach up towards the sun, long after Viktor and Mom and Dad and I are gone. And though I suffer loss, it is small, personal, mine. I realize too, that I am home—in a place that will be of my own making.
---
July 2018